Ferrari Portofino: goodbye California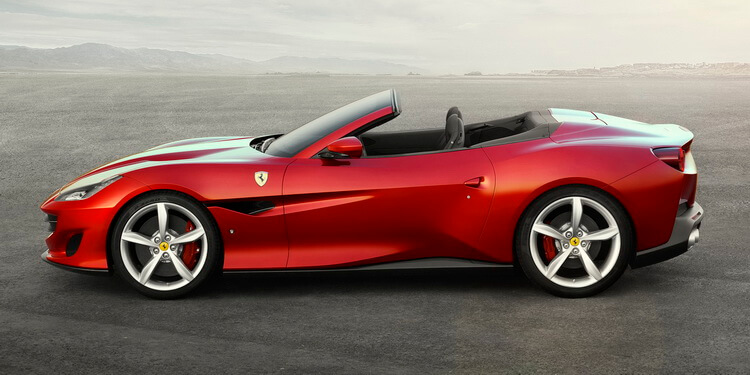 Ferrari refreshes again its 2+2 cabriolet. 
The California T is barely 3 years old but its replacement has been accelerated for what appears to amount to another refresh. The folding hardtop convertible 2+2 definition remains unchanged, but styling has been upgraded toward a more dynamic and elegant silhouette. It integrates trick aerodynamics such as the air intakes next to the headlight clusters which channel wind through the front wheel well to reduce drag.
The 90 degrees twin turbo V8 displacement remains at 3855 cm3, but gets a small increase in peak torque to reach 760 Nm between 3000 and 5250 rpm (vs 755 Nm at 4750 rpm on the California T) while power climbs to 600 hp, vs 560 formerly, but at the same 7500 rpm. Ferrari claims acceleration figures of 3.5s from 0 to 100 km/h and top speed in excess of 320 km/h. Pistons, connecting rods, intake and exhaust manifolds have been revised.
Overall dimensions only evolve slightly (4586 x 1938 x 1318 mm vs 4570 x 1910 x 1322 mm on the California T). The chassis adopts the third generation electronically controlled E-Diff3 differential, with integration with the F1-Trac traction control system. The Portfofino is also the first Ferrari GT to adopt electric power assistance (EPS for Electric Power Steering), with a 7% quicker ratio for faster response to driver inputs. Interior design evolves too with a new 10.2″ multimedia screen, 18-way adjustable seats and a new wind deflector which cuts air flow into the cabin by 30%. The Portofino will make its public debut at the 2017 Frankfurt Auto Show mid September.
Pictures gallery
Links
Forum topic – Ferrari articles – road tests list – also read: