Long term test: 35'000 km in a Ferrari 550 Maranello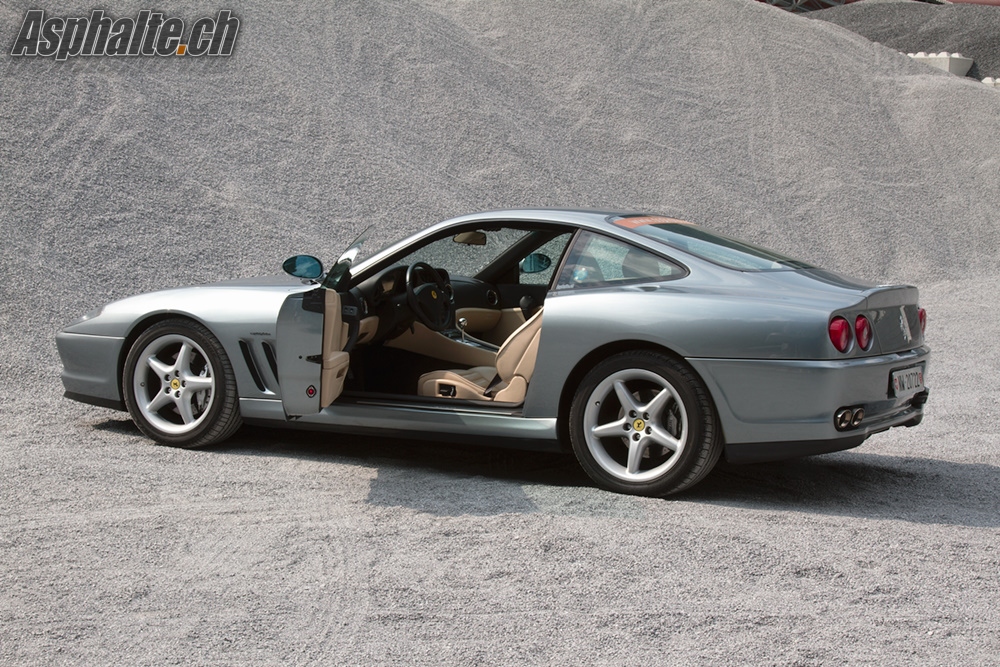 The ownership experience of a V12 Ferrari over the long run. 
Ferrari 550 Maranello, type F133. Body color Grigio Titanio over Sabbia leather. VIN 123294. First registration : March 27th 2001. Odometer mileage : 54'661 km. Portrait of a GT, leaning toward supercar status, which reigned over the segment from 1997 to 2005 and its replacement by the 599 Fiorano. Fifteen years after its coronation, what is left from the aura of this heiress of automotive aristocracy ? What is the ownership experience of a V12 Ferrari over 9 years and 35'000 km ? Let us examine the legacy of this super GT, with due tribute to its charms, but no complacency for its faults.
The Maranello can be considered as the last classic Pininfarina design. the end of an era where the elegance of lines and volumes ruled, or at least was given due consideration against the functional imperatives of a car exceeding 300 km/h. The styling cues from the 250GT, 275 GTB and 365 GTB/4 series are cultivated, if not claimed as legitimate heritage. A kind of neo-retro exercize before it became fashionable among mass manufacturers. Ferrari design language has since become more aggressive, more dramatic, distinctive and modern. We are in subjective territory, every amateur will know what their heart and mind tell them as their eyes travel the shape of the 550.
The same classic treatment applies to the interior. Leather runs from the door sills up to the roof lining and still exhudes the same smell to this day. A small steering wheel, Jaeger analog units for the speedometer and tachometer, four gauges for the mechanical stuff and a clock. Digital displays are limited to two small multi-function items. There are no gadgets, everything is simple and functional. The driving position is very good, perfectly aligned. Electric adjustments for the seat and manual for the steering column allow the driver to achieve a perfect triangle between hands, feet and one's dear rear end. The seat is deeply sculpted, with a scooped cushion and generous side bolsters.
The gear lever is both a strong suit and a weakness of the 550 Maranello. It is always hard and slow when the gearbox oil is cold, a trait that will not improve with age. The oil itself takes longer to warm up than the engine oil, which does not help to make it enjoyable on short trips. This gives the driver every reason to limit gear changes, which the butter smooth and torquy V12 is very well suited for. It also strongly advised to double-clutch when upshifting and downshifting, a proper technique helps significantly. At the limit, only two gears would suffice: second to get moving on idle, fourth everywhere else and sixth on the freeway. It is not uncommon that engaging first or rear will be hard when stopped, but clutching/de-clutching generally solves the problem.
Once warm, the gearbox remains full of character, but its tactile feel and positive response is full of charm and becomes undeniably seductive. Each gear has its signature, its own personality, with a force profile that gets smoother as the revs rise. Proper double-clutching becomes extremely rewarding, as the proper timing translates into a seamless and inviting shift. In spirited driving, managing this gearbox can be seen as a handicap if you fight it, but is hugely rewarding if you master it. The ringing "ka-ching" which resonates when metal slams against metal, the subtle changes as you go through the gears and get the movements in perfect synchronization, all converge to a rich experience if you pay attention to such detail and enjoy an involved driving style. In an era where pure speed can only be achieved on race track, finding reward in the exercize of driving rather than the outcome of driving is a luxury. This gear level, this metal sphere, freezing cold in the winter and burning hot under the sun, crowning an iconic grille with 7 slots, is anachronic in comparison with twin clutch automated systems, but makes driving so much more interesting at reasonable speeds.