Ferrari LaFerrari Convertible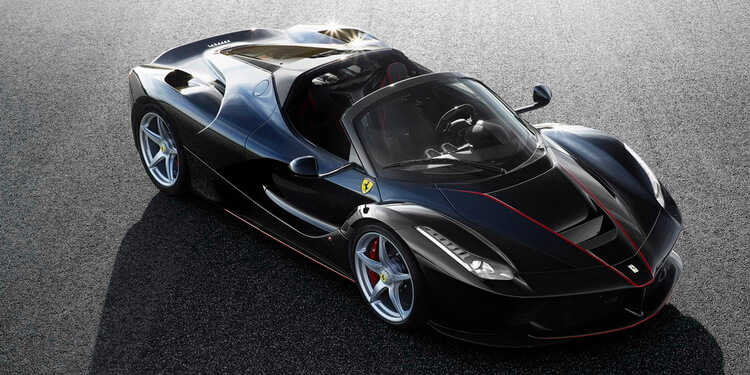 Ferrari publishes the first pictures of the convertible version of the LaFerrari hypercar. 
It is with a full order book that Ferrari releases these first pictures of the open top version of its LaFerrari hypercar. As with the coupe version, the hybrid hypercar will be a strict limited series production. It can either be covered with a carbon hard top or a foldable soft top. The powertrain is identical to the coupé version of the la LaFerrari presented at the 2013 Geneva Autoshow.
At his core sits the same 6262 cm3 V12 putting out 800 hp at 9000 rpm, with a peak rev range set at 9250 rpm, a record for this category of engines. Compression ratio reaches 13.5:1 and specific power 128 hp per liter of displacement. The v12 is assisted with a 163 hp electric motor to achieve a combined system power of 963 hp. The massive torque of the electric motor allowed engineers to tune the V12 for maximum output at higher revs. Maximum torque is in excess of 900 Nm, of which the V12 contributes 700 Nm at 6750 rpm.
The chassis has undergone significant structural modifications to cope with the removal of the roof while preserving torsional and flexion stiffness. The final name and production quantity will be revealed at the 2016 Paris Autoshow.
Photo Gallery
Links
Forum topic – Ferrari articles – the list of road tests – for further reading: