Geneva 2015: Ferrari 488 GTB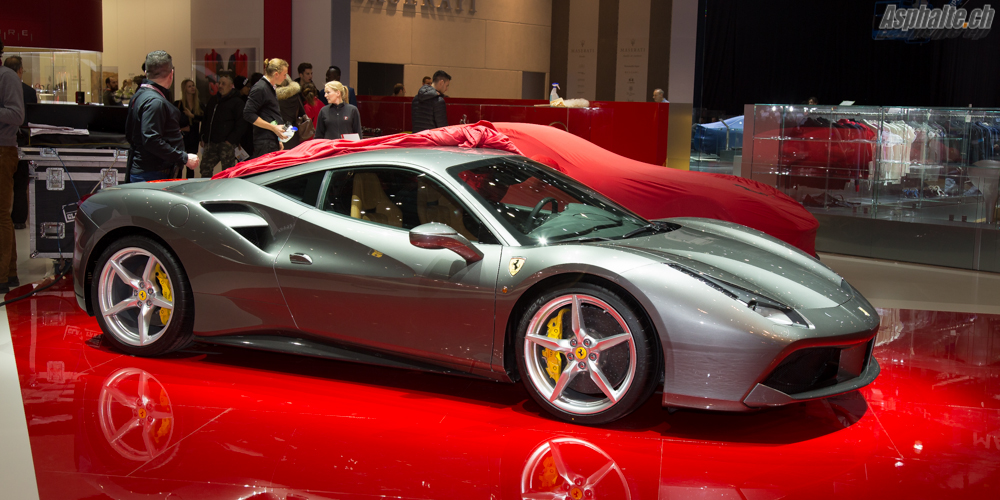 The new turbocharged Ferrari 488 GTB debuts in Geneva. 
Until 2014, Ferrari had ventured into turbocharging only on two (rare) street legal GT cars, the Ferrari 288 GTO (1984-85) and the Ferrari F40 (1987-1992). After these two experiments, Ferrari returned to dominant genes in its DNA: high reving naturally aspirated engines. The pressure coming CO2 emissions regulations (and competition perhaps) has lead Ferrari to change strategy.
The Ferrari California T, the first contemporary Ferrari to adopt turbocharging in the spring 2014, extracts 'only' 755 Nm à 4750 rpm and 560 hp at 7500 rpm from its twin turbo 3855 cm3 V8. The 488 GTB gains slightly in displacement (3902 cm3), but Ferrari did not communicate initially whether this is achieved through a change in bore or stroke. Torque peaks at 760 Nm, but from as low as 3000 rpm, and power jumps to 670 hp at 8000 rpm. Ferrari announces a 0-100 km/h acceleration time of 3.0 seconds and 0-200 km/h in 8.3 seconds. The lap time on the factor Fiorano track is claimed at 1'23". Ferrari says that lag is only 0.8 secondes at 2000 rpm.
The engine is not the only change in comparison with the outgoing 458 Italia. Ferrari claims a 50% increase in downforce as well as a reduction in drag, resulting in an efficiency ratio of 1.67, a record for a production Ferrari. The aerodynamic package includes active elements, a new front splitter, a blown wing and vortex generators are incorporated in the flat underbody. The front fascia incorporates radiators at the extremities while a deflector in the center channels air underneath the car. The diffuser integrates active flaps. Its height has required to relocate exhaust pipes higher.
Overall styling draws obviously from the 458, but Ferrari also claims inspiration from the iconic 308 GTB, especially for the side air intakes, which are split in two sections. The 488 GTB is equiped with a new drift management system dubbed Side Slip Control 2, more precise and less intrusive than the former system, and integrated with tracion management and the E-Diff differential. The SSC2 also integrates damping management in its operating parameters..
Comparing the 488 GTB to the 458 Italia
Ferrari 488 GTB
Ferrari 458 Italia
Engine
 V8 turbo 3902 cm3
V8, 4499 cm3
Power (hp / rpm)
670 / 8000
570 / 9000
Torque (Nm / rpm)
760 / 3000
540 / 6000
Kerb weight (mfr.)
 (1370)
46.5% AV 53.5% AR
1598 (1485)
0-100 km/h (sec.)
3.0s
3.4
Top speed (km/h)
>330
>325
L/100km (mfr.)
(11.4)
18.94 (13.7)
Length
4568
4527
Width
1952
1937
Height
1213
1213
Wheelbase
N.C.
2650
Tires front
245/35/20
235/35/20
Tires rear
N.C.
295/35/20
Photo Gallery – Asphalte
Photo Gallery – Asphalte: interior & details
Photo Gallery – Ferrari
Links
Forum topic – Ferrari articles – Geneva auto show – related road tests: