Geneva 2015: McLaren 675 LT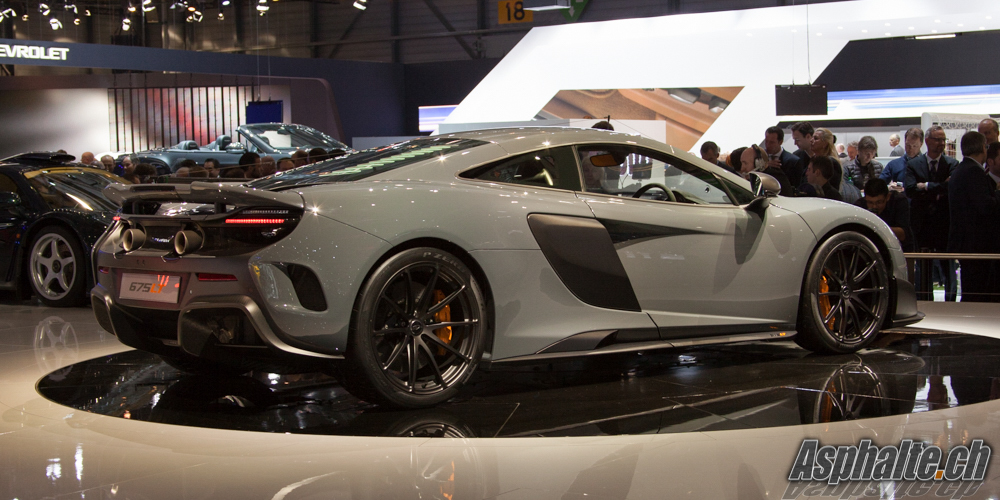 McLaren launches a track oriented version of its Super Series berlinetta. 
The 675 LT (LT for Long Tail) draws from McLaren's racing heritage, more specifically the famous McLaren F1 GTR 'Longtail' and their victorious campaign at the 24 Hours of Le Mans. The 675 LT is an evolution of the 650S Coupe (no spider version will be made), but with even fiercer performance. The McLaren 650S is already a reference in terms of kerb weight: we measured our MP4-12C test car at 1471kg  and 'our' 650s Spider at 1478kg, remarkable figures for the segment. For this 675 LT, McLaren claims a further 100kg weight reduction, and a 549 hp per tonne weight to power ratio, unfortunately based on a 1230kg dry weight, not the more relevant kerb weight, expected to come in around 1370kg. The twin turbo 3.8L  V8 biturbo puts out 700 Nm from 5500 to 6500 rpm (650S: 678 Nm at 6000 rpm) and 675 hp at 7100 rpm (650S: 650 hp at 7250 rpm).
With a 2.03 kg/hp power to weight ratio, acceleration should be murderous. McLaren announces 2.9 seconds for the 0-100 km/h exercize, and 7.9 seconds for the 0-200 km/h acceleration. This is 0.4s faster than the figures claimed by Ferrari for its new 670hp turbocharged 488 GTB. Top speed is 330 km/h. To achieve these results, more than a third of the components are new and specific to the 675 LT. This is no rebadged 650S.
The exterior design has been treated with subtle yet significant changes, with a more prominent front splitter, deeper side skirts, and an additional air intake. The titanium exhaust system is finished with two large circular outlets. The active "Longtail" wing is 50% larger than on the 650S, but lighter also, thanks to carbon fiber.
The car will be available in 5 specific liveries, based on 4 new colors:  Silica White, Delta Red, Napier Green and Chicane Grey. Inside, the alcantara covered carbon bucket seats are a derivative from the P1 hypercar. Pricing is set at CHF 333'000 in Switzerland, € 310'000 in Germany, and production limited to 500 cars.
Picture Gallery – Asphalte
Picture Gallery – Mclaren
Links
Forum topic – McLaren articles – the Geneva auto show – related articles: