Geneva 2015: Audi RS3 Sportback (8V)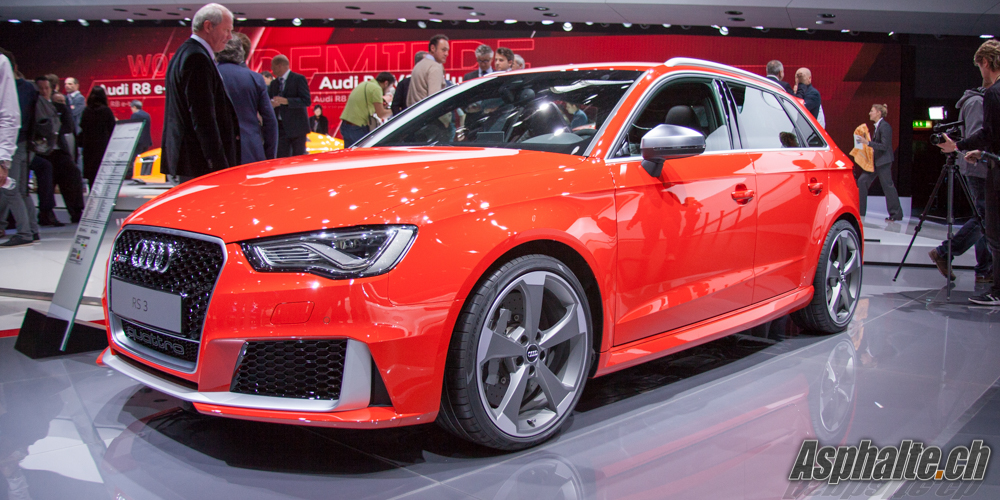 World premiere for the Audi RS3 Sportback.
After Audi's announcement on December 12th 2014, the new RS3 makes its first public appearance at the 2015 Geneva auto show. Audi is faithful to the recipe applied to the first RS3 Sportback (type 8P). The body type remains a Sportback wagon, and the engine is the charismatic 2.5L TFSI in a configuration putting out 465 Nm from 1,625 to 5,550 rpm and 367 hp, versus 450 Nm and 340 hp for the previous version. Specific power extracted from the 2480 cm3 of displacement reaches 148 hp per liter, with a turbocharger blowing at up to 1.3 bars. Torque is channelled through a 7 ratio S-Tronic twin clutch gearbox, claimed to be faster than the former unit. The all-wheel-drive Quattro includes a torque vectoring function based on selective breking and allows, according to Audi, drifting on slippery surfaces. The center differential can modulate torque distribution to the rear wheels from 50 to 100%.
The acceleration from 0 to 100 km/h is dispatched in 4.3 seconds (vs 4.6s on the type 8P model) and top speeed can be raised to 280 km/h as an option. Audi also gives elasticity figures of 4.1 seconds from 60 to 100 km/h in 4th gear, 5.8 seconds from 80 to 120 km/h in fifth. Normalized NEDC fuel consumption is 8.1 L/100km (9.1 on the previous model). This amounts to CO2 emissions of 189 g/km, thanks in part to the stop-start system. Owners will enjoy the signature exhaust note of the five cylinder engine, characteristic of the 1 – 2 – 4 – 5 – 3 ignition cycle. The exhaust system has been reworked for a sportier sound, and a sport exhaust system is offered as an option.
In comparison with the A3 Sportback, the chassis has been lowered by 25mm. A Magnetic Ride damping system and carbon ceramic brakes are offered as options. The standard steel rotors measure 370 mm in diameter at the front, 310 mm at the rear. The front track is 1,559 mm, 1514mm at the rear. Audi dresses the new RS3 Sportback with 235/35R19 rubber a standard fitment, or 255/30R19 front and 235/35R19 rear as an option. Audi claims a kerb weight of 1,520 kg without driver, or 55kg less than the previous model.
Inside, seats are dressed in nappa leather with contrasting stitching. Le RS multifonction steering wheel combines leather and alcantara, with a flat rim in the lower region. Instruments include a boost pressure indicator, an oil temperature gauge and a lap timer. Les pédales et repose pied sont en acier inoxydable. Parking assistance and MMI radio come as standard equipment. Options include S Sport seats with quilted leather, as well as new RS seats with integrated airbags and carbon figer shells, saving a useful 7kg each. The RS3 interior package adds red accents on the air vents, knee padding, floor mats and safety belts.
The new Audi RS3 Sportback will be launched in May 2015 and offered in 8 liveries, amog which 2 are new: Nardo gray and Catalunya red metallic, specific to the RS3 Sportback. The price is set at CHF 71'600.- before Euro bonus.
Picture Gallery – Asphalte
Picture Gallery – Audi