Geneva 2015: Audi R8 V10 5.2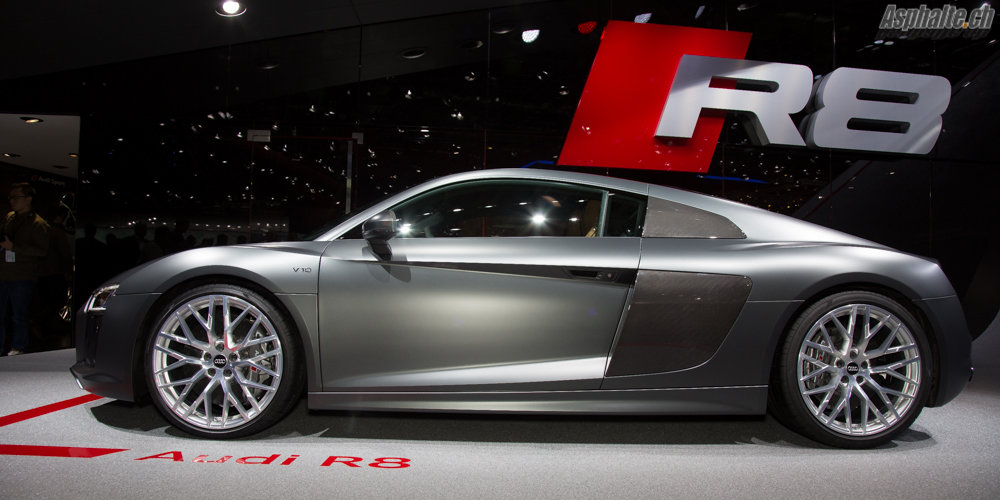 The world premiere of the Audi R8 at the 2015 Geneva auto show. 
The new second generation Audi R8 has been unveiled shortly in advance of the 2015 Geneva Autoshow. Presented only with the naturally aspirated 5.2 FSI V10 engine – at least for now – the R8 mk2 is proposed in two executions: 540 and 610hp. The R8 V10 puts out 540 Nm of torque at 6,500 rpm and 540 hp. The 0 à 100 km/h acceleration is claimed at à 3.5 seconds and top speed is 323 km/h. The R8 V10 Plus peaks at 610 hp with a torque of 560 Nm at 6,500 rpm. The 0-100 km/h times drop to 3.2s, 0 to 200 km/h is reached in 9.9 seconds and top speed reaches 330 km/h. As with other recent VW Group power trains, this engine combines direct and indirect port injection, and COD (Cylinder On Demand) technology: one cylinder bank of the V10 is deactivated at light loads. To ensure proper lubrication under high lateral G loads, a dry sump system is adopted. NEDC fuel mileage is 11.8 L/100 and 12.4 L/100km respectively.
The gearbox is a 7 ratio S-Tronic unit coupled with a Quattro all-wheel-drive system. Torque distribution is 100% on the rear wheels by default, but can be altered to send 100% on the front wheels through a multidisc electrohydraulic clutch. The S-Tronic gearbox integrates a coasting mode which gets activated from 55 km/h. Weight is announced at 1454kg dry, a 50kg reduction over the outgoing model. This translates into 1,555kg with fluids. The chassis combines aluminum and carbon fiber elements.
Standard equipment for Europe includes LED headlights, with laser spot units as an option delivering 600m of illumination range. The Audi Virtual Cockpit and Navigation Plus with MMI touch also come as standard equipment. The Audi Magnetic Ride suspension and Dynamic Steering are options on both V10 and V10 Plus models. The Audi R8 V10 will be delivered fitted with 245/35/19 and 295/35/19 wheels. The R8 V10 Plus get larger 245/30/20 and 305/30/20 tires. Carbone ceramtic brakes are standard on the V10 Plus and an option on the V10. Dimensions are 4.42 m in length on a 2.65 meters wheelbase, 1.24 m in height and 1.94 m in width, or 4cm wider than the previous car.
The new R8 will be commercially launched for the summer 2015. Prices are 165,000 euros for the R8 V10 and 187,400 euros for the R8 V10 plus. In Switzerland, prices are set at 219''900 CHF for the R8 V10 and 252''200 CHF for the R8 V10 Plus.
Photo Gallery – Asphalte: Audi R8 V10 5.2
Photo Gallery – Asphalte: Audi R8 LMS
R8 e-tron
The new R8 serves as a basis for an electric version: the R8 e-tron, presented in blue at the Geneva auto show. Thanks to new batteries, the electric range has been doubled at 450 km,with a charge capacity growing from 49 kWh to 92 kWh. The energy density almost doubled as well from 84 Wh/kg to 154 Wh/kg. The R8 e-tron features a massive peak torque of 920 Nm and max power of 340 kW (462 hp), allowing to dispatch the 0-100 km/h acceleration in 3.9 secondss and reach a top speed governed at 210 or 250 km/h. The R8 e-tron is a product, not a concept, but it will be built to order.
Photo Gallery – Asphalte: Audi R8 e-tron
Photo Gallery – Audi
Links
Forum topic – Audi articles – the Geneva auto show – related articles: