Road Test Porsche 911 Carrera S Coupe (Type 991)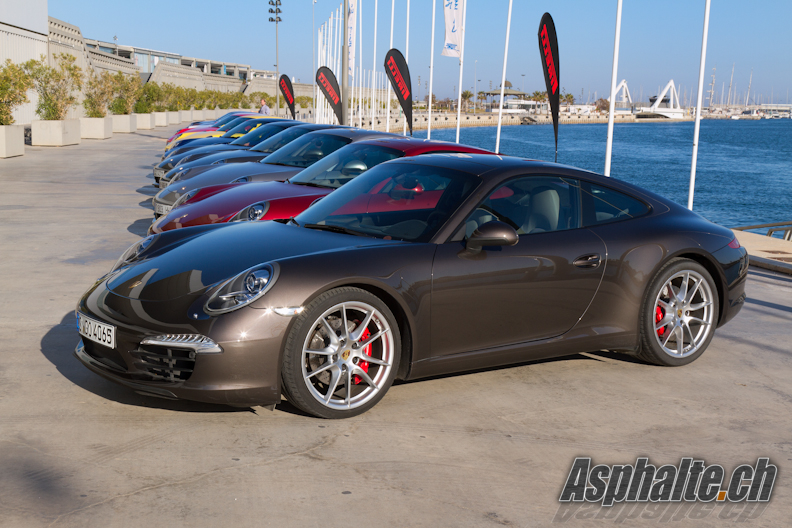 I decisively bag the only car in the pretty anthracite brown metallic, a new paint introduced for the 991, and off we go to our first stop, a small test track area dedicated to launch control. Car set in sport plus mode, PDK in D position, left foot firmly planted on the brake pedal. I mash the throttle pedal, the engine bounces against the limiter and as soon as the left foot side steps the brakes, the car leaps away with impeccable traction. It is unlikely that many owners will try, furtherless repeat, that kind of drill, but it is inspiring to observe the test car repeat the exercize tirelessly. Second stop, a coned autocross track with some slippery portions, covered in first and second gear, starting with tricky conditions: one wheel on slippery, wet polymer, the other on pavement. The limited slip differential handles the trap with ease, powering off the line without a hint of wheel spin. The rest of the course is designed to play with the balance of the car at low speeds. In Sport Plus mode, the electronic nanny leaves ample room for sideways play, but intervenes brutally when yaw reaches a third of a turn of opposite lock. The 991 is surprisingly at ease on a terrain that would suit a lighter Cayman R. Direct comparison with another 991 shows that worn off tires can increase understeer considerably, requiring a lot more precision and attention to weight transfers.
A few more pictures in front of the F1 pits, the shallow, winter sunset light ignites the tones of the paint job. I leave Valence towards the south in the company of a DB9 met in traffic, seemingly intrigued by the styling of this new 911. At our night stop, our discussion with Michael Schaetzle, project leader for the 911 line-up, continues till late in the night. The man is courteous and friendly, sharing thoughts and anecdotes ranging from his first project at Porsche (997) to his latest offspring and the challenges to come (see Q&A summary).