Hybrid hypercars & hypercommunication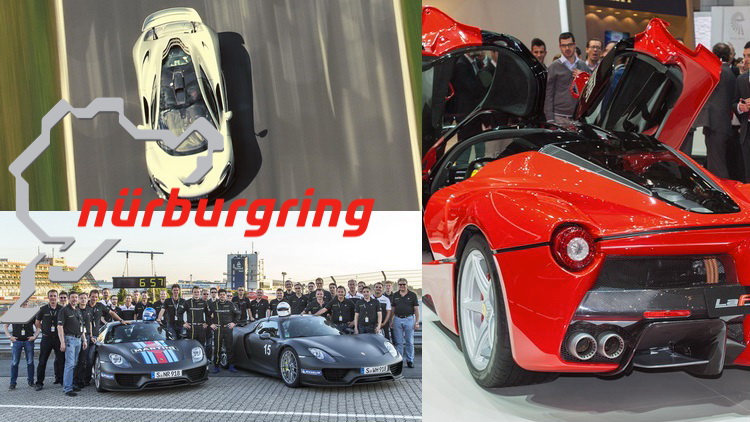 Hypercars and haphazard communication on auto PR holy gail: Ring laptimes.
The year 2013 will remain a milestone in automotive history, with three of the most prestigious car manufacturers presenting or releasing on the market new hypercars. All three are hybrid, promise astounding performance and carry an equally breathtaking price tag of more than a million swiss francs.
The Porsche 918 Spyder was presented as a concept in 2010, and reached in May 2013 its final configuration and market release. The McLaren P1 was presented first at the 2012 Paris autoshow; fall 2013 sees the first cars being delivered to customers. Ferrari presented at the 2013 Geneva autoshow the LaFerrari and is still undergoing final development. While every such undertaking is cause for celebration, when stars align to make three such projects coincide in time, stakes become high and competion sharper.
A ferocious competition for a finite customership with a substantial discretionary income, seeking excellence and exclusivity, the latter being in direct contradiction with the volumes required to ammortize massive development costs. Ferrari claimed already in march 2013 that the 499 LaFerrari were spoken for. McLaren ended up closing the 375 orders in November. More than half of the 918 Porsche 918 Spyder are said to have been acquired. Selling is a necessity. Getting as much public relations and brand publicity mileage on these formidable flagships is an imperative as well. One of the often and perhaps overused marketing tools is Nürburgring Nordschleife lap times, used generously by most car manufacturers to boost the credentials of their sport models. Nuances are sometimes lost in translation, and marketing communication sometime swing between inaccuracy and disinformation.
When the 918 Spyder Concept was presented in 2010, Porsche announced  a lap time of 7'30". In May 2013, the final model boasts 7'14". On September 11 2013, Porsche issues a press release announcing that the 918 Spyder beat its own benchmarks by covering the 20.6 km of the Norschleife in 6'57". The release seems  factual, supported by a video of pilot Marc Lieb completing a full lap. Porsche presents the 918 as the "the first vehicle to boast global road homologation", a statement that makes no sense other than in the context of the competition with Ferrari and McLaren.
At first sight, Porsche's communication is straight to the point: a lap time, a video. However, further scrutiny raises a few more questions. The video is void of any lap time or velocity data, while those features are commonly available from on-board data logging systems for trackday enthusiasts. Porsche announces a time over 20.6 km while a full lap of the Nordschleife measures 20.83 km. An explanation can be found in the fact that Porsche is part of the industry pool which rents the Nordschleife several days per year to run its tests. Industry pool rules impose restricted speed around the old pits (tribune 13), and shorten the usable track distance to 20.6 km. Porsche's video of Marc Lieb's lap however was recorded over a full flying lap, with an entry on the Nordschleife from the  Touristenfahrten access point, not during an industry pool session. Watching the video with a lap timer reveals a full 20.83km lap of 7'02", which Porsche conveniently chose to summarize with a sub-7 minutes lap time over 20.6km.
McLaren, on its side, invested significant means to achieve its objective, re-stated by Ron Dennis at the 2013 Geneva autoshow, of a sub 7 minutes lap on the  Nordschleife. The english press is invited to witness the record, but things go sideways from there on. Early November 2013, Nick Trott, managing editor of Evo, divulges the fact that McLaren refuses to communicate the P1's lap time. The news spread on the internet faster than the P1 accelerates from 0 to 300 km/h, fueling a plethora of theories on McLaren's motivation for this sudden change of hearts. Radio silence in Woking.