Geneva 2015: Lamborghini Aventador LP750-4 Superveloce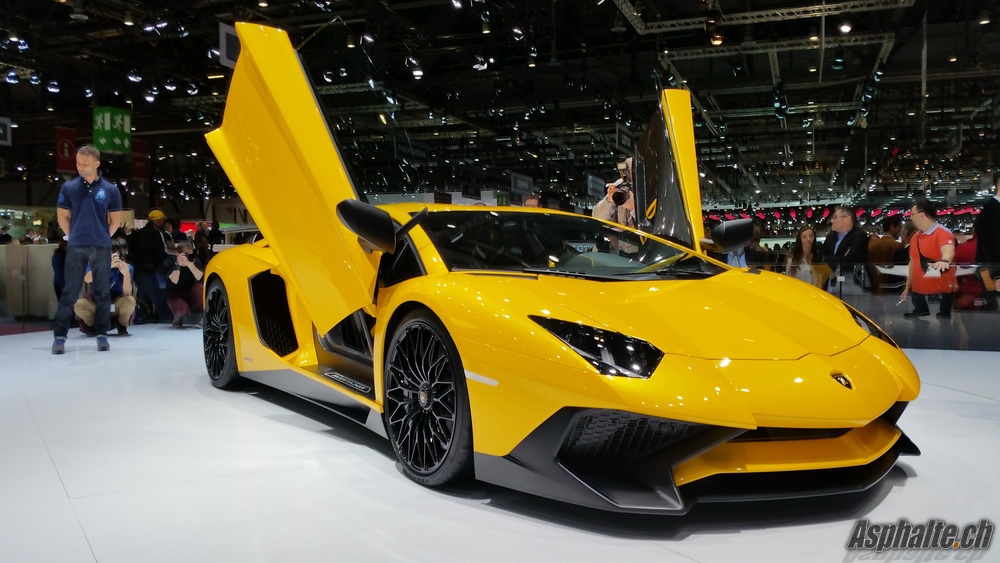 The Lamborghini Aventador gets the Superveloce treatment.
More power, less weight. Four years after its launch, the Lamborghini Aventador receives a Superveloce treatment in all areas crucial to extreme driving experiences.
The SV suffix appeared for the first time on a Lamborghini in 1971 with the Miura SV. The actual original meaning remains a topic of debate between historians: Spinto Veloce (fast driving), Super Veloce or Sprint Veloce, but the first seems to have the preference of experts. In spiteof its 16 years of production, the Countach did not get its SV version. It reappears at the 1995 Geneva autoshow on the Diablo SV (517 hp, 2 wheel drive), then in 2009 on the Murcielago LP 670–4 SuperVeloce (670ho, 4 wheel drive). The Aventador SV is thus the fourth model in Lamborghini's history to get the denomination.
In comparison with the Aventador LP700-4, the 6.5L V12 jumps from 700 hp at 8250 rpm to 750 hp at 8400 rpm. Weight savings amount to 50kg thanks to new doors and fenders in carbon fiber. The rear wing, the new air intakes, interior door panels and specific buckets seats are also made of the same material. The 0-100 km/h acceleration  is claimed at 2.8s, 0-200 km/h in 8.6s and 0-300 km/h in 24 seconds. Top speed is in excess of 350 km/h. Lamborghini claims a power to weight ratio of 2.03 kg/hp, but on the basis of a 1525 kg dry weight.
The in-board shock absorbers of the Aventador incorporate the Magneto Rheological Suspension (or MRS) system which adapts damping to road condition and reduces dive under hard braking. The LP750-4 Superveloce also gets the electromacanical Lamborghini Dynamic Steering (LDS) introduced on the Huracan which adapts the steering ratio to speed and driver selected settings. Forged wheels in matte black finish can be specified with center locks. Brake discs in carbon ceramic comme as standard equipment.
The Aventador Superveloce retains its ISR robotized single clutch manual gearbox with 7 ratios. The four wheel drive system is also part of the package, with a fourth generation Haldex differential magaging torque split between the front and rear wheels. A self-locking differential at the rear and electronically piloted differential at the front complete the system.
Aerodynamics are revised with an increase of 150% of the efficiency ratio and 170% in downforce. The rear wing is manually adjustable in 3 positions, altering the aerodynamic balance by up to 15%.