Swiss auto market 2012: winners & losers
Auto sales on the swiss market increased by 2.9% in 2012 and nearly beat the 1989 record level. 
These results are remarkable in the continental economic context. After an analysis of macroscopic trends, let us have a look at models and segments.
In the top 15 chart of the most successful models, no change in the winning Golf-Octavia-Polo trio, their volumes are out of reach for competition. Behind, several changes in the ranking, starting with the Volkswagen Tiguan whose facelift sent sales upward by 55% !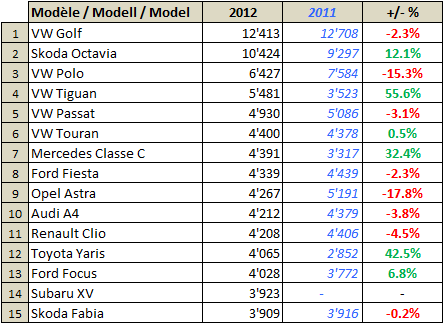 If the sligth softness of Golf sales can be associated with the transition to the seventh generation, the erosion of Polo sales is to place back in the context of outstanding 2011 figures. The Mercedes C-class was a very strong performer, beating the Audi A4 range thanks to an aggressive commercial strategy. The new Toyota Yaris is steaming ahead, returning to historical volumes of the 2006-2007 years. However, the biggest surprise of this top 15 is the Subaru XV: a good product at the right price in a trendy segment, which unseats last year's leader, the Ford Kuga, in its first year of sales.
SUVs: +76%
Diesel and 4×4 are dominant trends on the swiss market, and if 4×4 & SUVs are not always synonimous, the growth of off-roadish models is meteoric, whichever subsegment you look at. In the value segment, the XV-Kuga-Qashquai trio dominates the market, leaving competition measurably behind.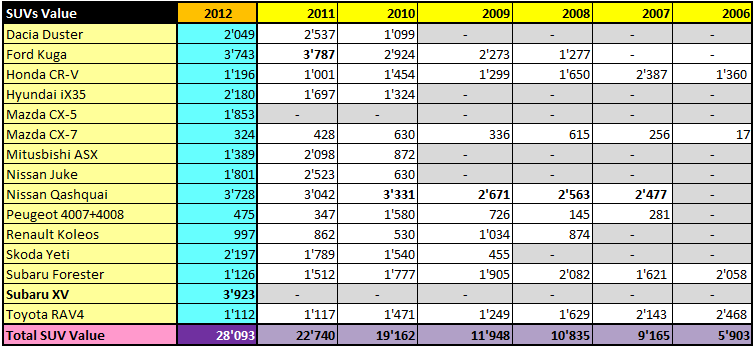 While affordable SUVs account for a large chunk of unit sales, sales amounts remain very attractive in the upper segments. Our analysis indicate that the Compact, Midsize and Fullsize segments generate as much turnover (and probably even better margins) than the more widely distributed models. The VW Tiguan is a star, not only through its growth since the facelift, but also in being the number one SUV model on the entire swiss market, all segments combined. The Audi Q3 had a successful launch, beating the BMW X1 and Range Rover Evoque. One size up, the BMW X3 has a solid lead. Among the behemoths, the new Mercedes ML emerges as the winner. Everywhere, the assessment is the same. Sales are growing briskly, the offering is widening. In comparison with 2011, combined unit sales across these 4 sub-segments have grown by 76% !