Road Test: Tesla Roadster Sport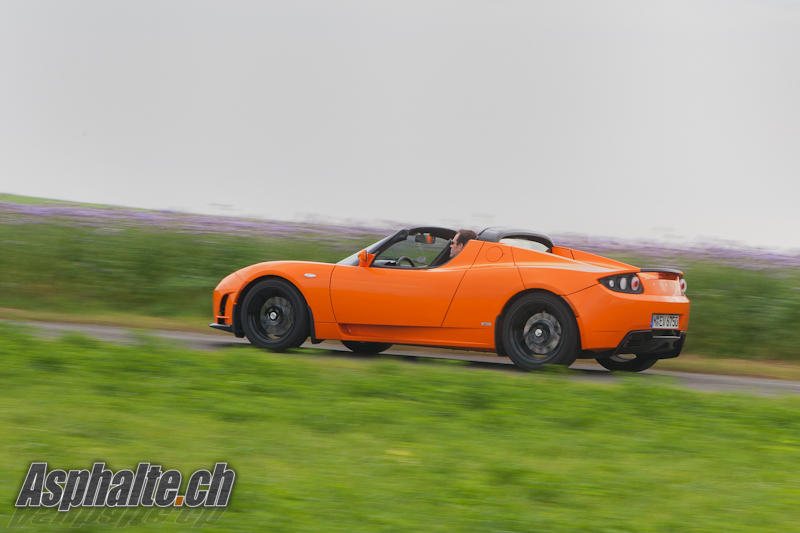 Tesla Roadster Sport, the electrified roadster. 
400 Newton Meters. At zero rpm. The figure would sparkle interest from any automotive connoisseur, furthermore when it comes packaged into a package as seductive as the Very Orange (it's the real name of the paint jobe) Tesla Roadster Sport entrusted to us for this road test. Dressed with vast expenses of carbon fiber, from the front splitter to the hood and the numerous inserts of the Premium Executive Carbon Pack interior, the car certainly looks the part under the grey skies of this inglorious fall day. We hurry out of Geneva's outskirts to bag some photography in dry conditions. At cruise speeds on the freeway, tire roar and wind noise dominate. Hard to say if the drone of a good old 4 cylinder engine would be more enjoyable, cruising is hardly the diet of choice for a hardcore roadster anyway. Standard equipment includes AC, an elaborate, multi-screen trip computer with touch screen, a radio and iPod interface.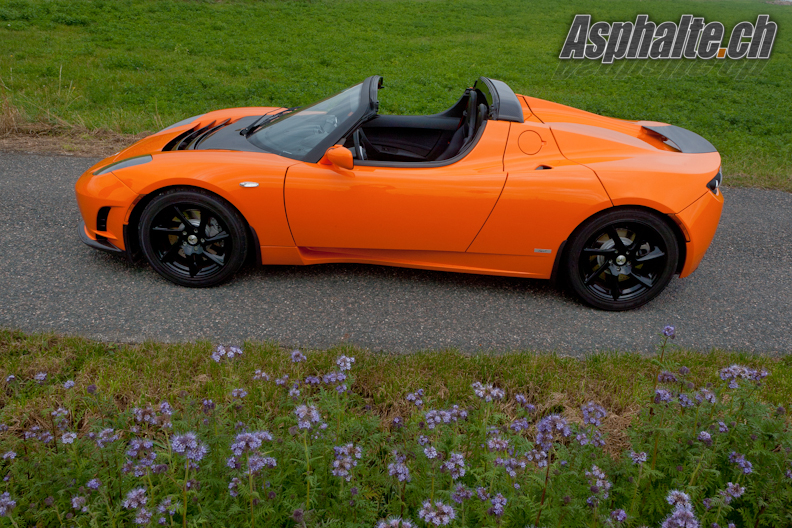 Behind the wheel, the familiar binnacle shows on the left a speedo graduated till 250 by 30 kph increments – a bad habit that the Roadster shares with its Lotus cousins – with a parallel scale for engine rpms going from 0 to a 14'000rpm redline. There's no gearbox in this car, the electric motor torque is such that it can both offer meaty acceleration and a 201 kph top speed with a fixed 8.28:1 drive ratio. Speed and rpms are therefore in direct relation. On the right hand side, a power indicator going clockwise from 0 to 200 kW (or 271 hp) for consumption, and from 0 to 40 kW for regeneration. Unlike most hybrids, the Tesla Roadster does not use a brake pressure splitter to channel energy between the battery recharge and thermal dissipation in the disc brakes. Engine braking is very pronounced when the throttle pedal is lifted, to the point where the middle pedal can be made useless in fluid driving conditions. The throttle needs to be feathered to coast normally, a follow car could otherwise be surprised by the amount of deceleration while brake lights remain off.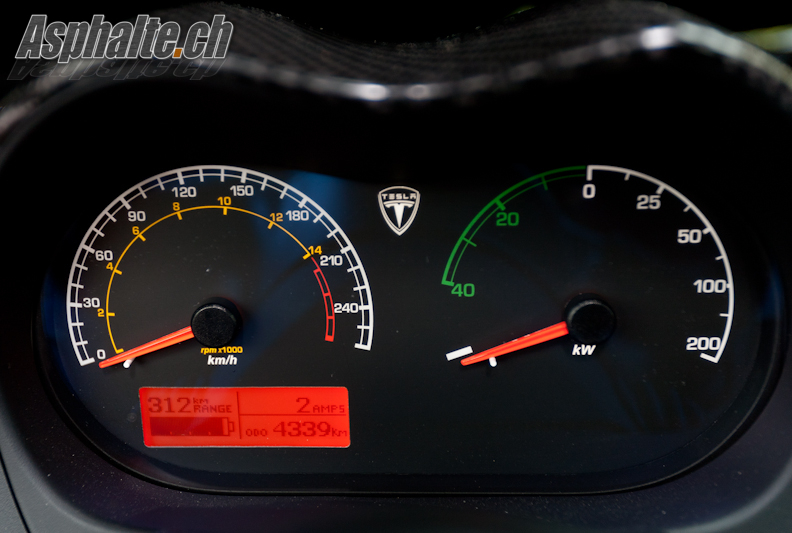 The battery pack is nested behind the seats in the compartment otherwise devoted to the Toyota engines that power the Lotus range. No less than 6831 Lithium cells whose thermal management is given great care, with a liquid cooling system that runs to a large front intercooler topped by two fans. Their lifespan is rated at 7 years or 160'000km and their replacement listed at 13900 CHF. At 120 km/h, the power indicator hovers around 25 kW (33 hp), so there's around 250 hp left on tap under the right foot. Time to head for the wine country hills.