WEC: 6 hours of Spa: Toyota 1-2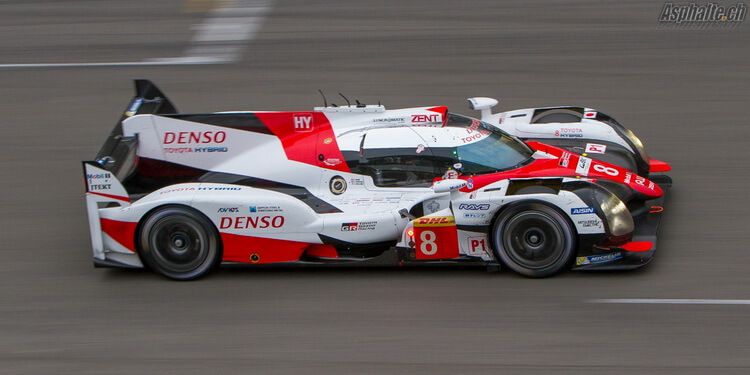 The six hours of Spa: a breathless sprint which saw the victory of Toyota over Porsche. 
The six hours of Spa are the second rendez-vous of a championship which counts nine endurance races, and above all the last dress rehearsal before the 24 hours of Le Mans. The belgian race started on Saturday May 6th under a radiant sun. After its pole position, the #1 Porsche 919 Hybrid took the lead at the rolling start, followed by two Toyota (#8 and #7), the second Porsche 919 and the third Toyota.
As a useful reminder, the hybrid LMP1 prototypes are running two aerodynamic packages:
– one designed for Le Mans with low downforce
– the other with higher downforce for twistier tracks
Porsche had opted to run its low downforce package for the Silverstone and Spa races, while Toyota won in Silverstone with its high downforce configuration and came to the belgian Ardennes with a third car (#9) equipped with its Le Mans body (see detailed comparison). Twenty minutes into the race, the five cars were running wheel to wheel then two Toyotas took the lead, followed by the two Porsche 919s. The warmer track conditions seemed to benefit the high downforce Toyota TS050, while the fastest Porsche (#1 with Lotterer at the wheel) was struggling with excessive tire wear.
Overtaken by the other 919, Porsche chose to alter its strategy and change driver and tires at the first pit stop, Nick Tandy taking over from its team mate. The two Porsche LMP1 however did not manage to catch up with the two high downforce Toyotas during the first four hours of the race, while staying ahead of the third TS050 and its low downforce package.
The end of the afternoon saw the return of gray skies and a significant drop in temperatures. The #2 Porsche gained pace and started to catch up then take the lead at the occasion of pit stops. A win was a distinct possibility when, one hour to the checkered flag, Brendon Hartley hit an Alpine LMP2 in the bus stop chicane breaking zone. A light contact which forced nonetheless a change of the nose and an unscheduled pit stop, just too soon to complete the race. A final pit stop was necessary, forcing a last pit stop a dozen minutes before race end, and rolling back the 919 to the 3rd place on the podium.