Long term test: 50'000km in a Toyota Prius II
50'000km in a Toyota Prius mkII: real world conclusions on the poster child of hybrid cars. 
Toyota celebrated in December 2012 the sale of its 5 millionth hybrid car, out of which 3 million Prius. An undeniable commercial success, a strategic and technological pillar for the world's number one car maker. An excellent opportunity to reflect on our experience at the wheel of our Prius mkII after 5 years and 50'000 km of hybridization.
48'903 km, 5.44 L/100km, no problem to report. This could be the summary of this long term test.
Gas mileage is obviously of central interest with a car which symbolizes, for good or bad reasons, environmentally responsible mobility and conscience. Our measured average of 5.44 L/100km could appear unconvincing in comparison with small turbodiesel engines, but it is important to place it in the context of a broad spectrum of commutes, some short, some longer and faster, and mostly on hilly terrain. This is not a best case average from a freeway cruiser, but a realistic value obtained from conditions which would be rather unfavorable to a conventional automobile and where hybrid techonology makes a strong case for itself.
 Please click on thumbnails to display large format pictures
First and foremost, energy recovery in downhill segments. According to google maps, the road from our home to the nearest main road is a 90m altitude drop over a distance of 1140m. This is sufficient to fully recharge the NiMH battery pack and travel the entire village in electric mode, as long as the engine is deemed warm enough by the control unit to authorize it. It is however not necessary to drive through a mountainous landscape to benefit from energy recovery. Every time you coast to a stop or lift the throttle, as long as you anticipated it, is an opportunity to harvest electrons and charge up. In addition, whenever conditions allow, the Hybrid Synergy Drive system  naturally uses excess torque from the thermal engine to drive the generator and feed the batteries.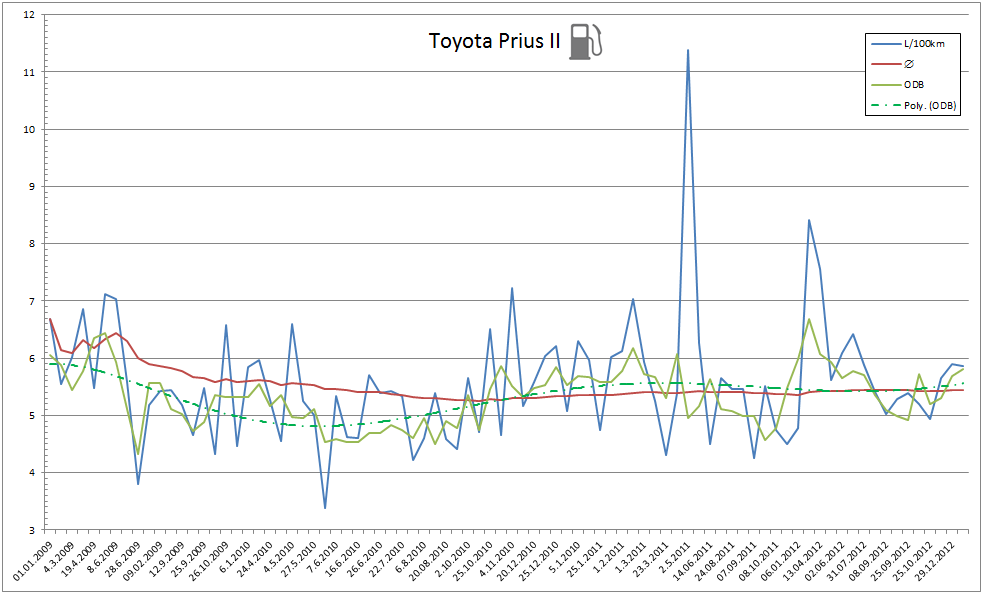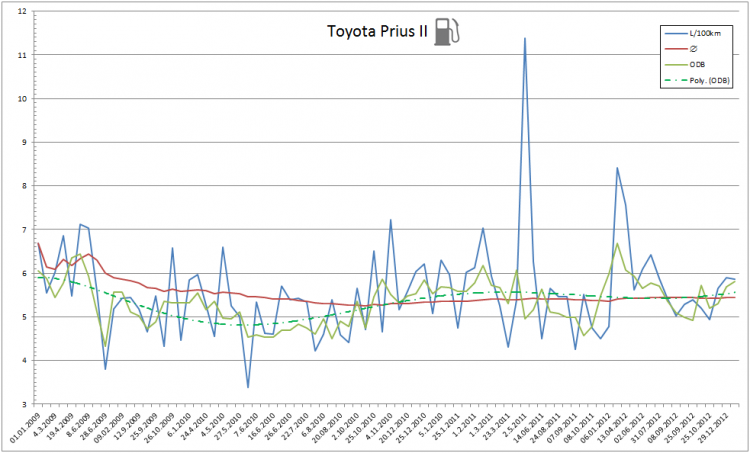 The blue curve of consigned tank refill volumes could be interpreted as the sign of a high variability in gas mileage, but it actually reflects the difficulty to precisely measure the amount of fuel required to fill the car. The Prius has a soft tank housed within a rigid enclosure, this makes it difficult to refill precisely to the same full level, furthermore as one is strongly advised not to top off beyond the second click of the gas pump, for two reasons. First, there have been reports of ruptured tank bladders in case of over-filling. Second, an excess ration of unleaded fuel has the same impact as poorly managed binge drinking: excess liquid is promptly returned through the inlet. Tanks are therefore sometimes  incomplete, which requires catch up the next time around and translates into the appearance of excess gas consumption. The on board computer turns out to be a more accurate and reliable indicator of gas mileage for any given tank,as show with the green curve. Its average is 5.24 L/100km, a 3.7% favorable error compared to the measured 5.44 L/100km. Incidentally, this on board computer 5.24 average is identical to the measurement made on the first 10'000km this car covered on the roads and freeways of California, in rather different climate, altitude and terrain conditions from Switzerland (see previous article).