Road Test - Ferrari 599 GTB Fiorano
Technical specifications
| | | |
| --- | --- | --- |
| | Ferrari 599 GTB Fiorano | |
| Engine type | V12 65° | V12 65° |
| Displacement | 5999 cm3 | 5474 cm3 |
| Unit displacement | 499.9 cm3 | 456.25 cm3 |
| Bore x Stroke | 92 x 75.2 mm | 88 x 75 mm |
| Compression ratio | 11.2 :1 | 10.8:1 |
| Max power | 620 hp @ 7'600 rpm | 485 @ 7'000 rpm |
| Max torque | 608 Nm @ 5'600 rpm | 563 Nm @ 5'000 rpm |
| Specific power | 103 hp/L | 88.6 hp/L |
| Redline | 8'400 rpm | 7'500 rpm |
| Dimensions | | |
| Length | 4.665 m | 4.550 m |
| Width | 1.962 m | 1.935 m |
| Height | 1.336 m | 1.277 m |
| Wheel base | 2.750 m | 2.500 m |
| Weight measured (claimed) | (1'690 kg) 1800 kg | (1690 kg) 1754 kg |
| Tank | 105 l | 114 l |
| Trunk | 320 l | N/A |
| Tires, front | 245/40/19 | 255/40/18 |
| Tires, rear | 305/35/20 | 295/35/18 |
| Performances | | |
| Power to weight ratio* | 2.90 | 3.61 |
| Max speed** | 330 Km/h | 320 km/h |
| 0-100 Km/h** | 3.7 s | 4.4 s |
| 0-200 Km/h** | 11 s | N/A |
| Fuel mileage (unleaded 95) | | |
| City** | 32.7 l/100 Km | 38.2 l/100km |
| Highway** | 14.7 l/100 Km | 16.4 l/100km |
| Combined** | 21.3 l/100 Km | 24.4 l/100km |
*based on measured weight **manufacturer claims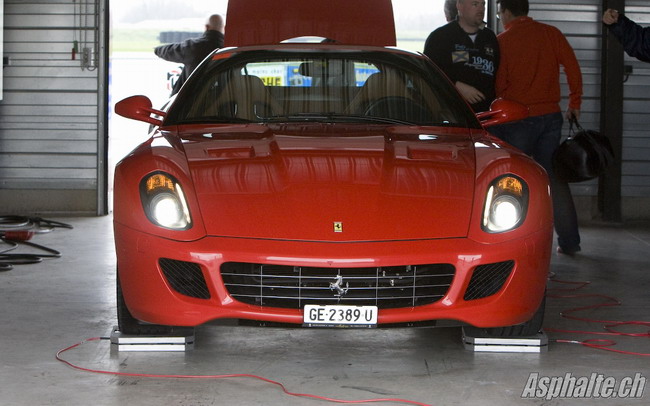 The 599 on our corner scales: 1800 kg with a full tank, steel brakes and sport seats, significantly more than the claimed 1690 kg. Weight balance is an amazing 47% front/53% rear.
Analysis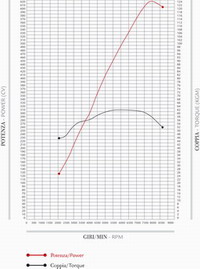 The 599 is a much bigger car than its predecessor: nearly 60mm taller and 11cm longer. This translates into a cartoonish visual impact when the two cars are standing side by side, the Maranello looking like a scale model. In spite of its conventional chassis construction, the 550 retains a significant weight avantage: 46 kg. Modern materials cannot fully contain the impact of runaway dimensions.
Keen on preserving the organic purity of a normally aspirated large capacity engine, Ferrari's engineers had to tap into high revs to find the 599 GTB's 620hp. As a result, maximum torque is only increased by 45 Nm (33 lbft) over the 550 Maranello's 5.5L V12, 600 rpm higher. The 599 power plant however maintains a very high torque until 7000 rpm. This explains partly why, behind the wheel, the 599 appears comparatively mellow at lower revs, but delivers an astounding experience as the needle climbs rushes towards the redline.